Sales and Management Retreat 2021 Highlights
Official Media Sponsor of the Retreat
Calling all Sales People, Sales Managers and Builders…
Allow Us to Introduce
A BRAND NEW SALES & MANAGEMENT TRAINING EXPERIENCE...
"Roland's program was life changing, it has already had a huge impact on how I think in sales. Roland's personality and passion for sales are contagious."
"In my 23 years of experience in New Home Sales, Roland is the BEST on educating, presenting and coaching – not to mention Entertaining."
"He is the best trainer I have had in my 32 years of selling! Real world answers to closing the sale, plus he made the training fun."
"I've been in new construction since 1989 and have taken many sales courses and can honestly say that Roland's New Home Sales + is by far the best. The information is relevant and wonderfully delivered. The feedback from our agents was exceptional. This an essential course for anyone in the industry. Highly recommend."
"Roland is an amazing trainer, he had me laughing and learning. His experience selling homes brought real depth and value to his techniques for the Sales process. Often trainers' experiences aren't in the same industry, or of a current market experience. The program is awesome, structured but fun!"
This unique experience will include sales training and motivation, along with relaxation techniques and fun in the sun. By combining our proven sales systems and management processes with the splendor of a destination resort in paradise, you'll be nourished intellectually and recharged spiritually — all under one exclusive roof and starlit pool.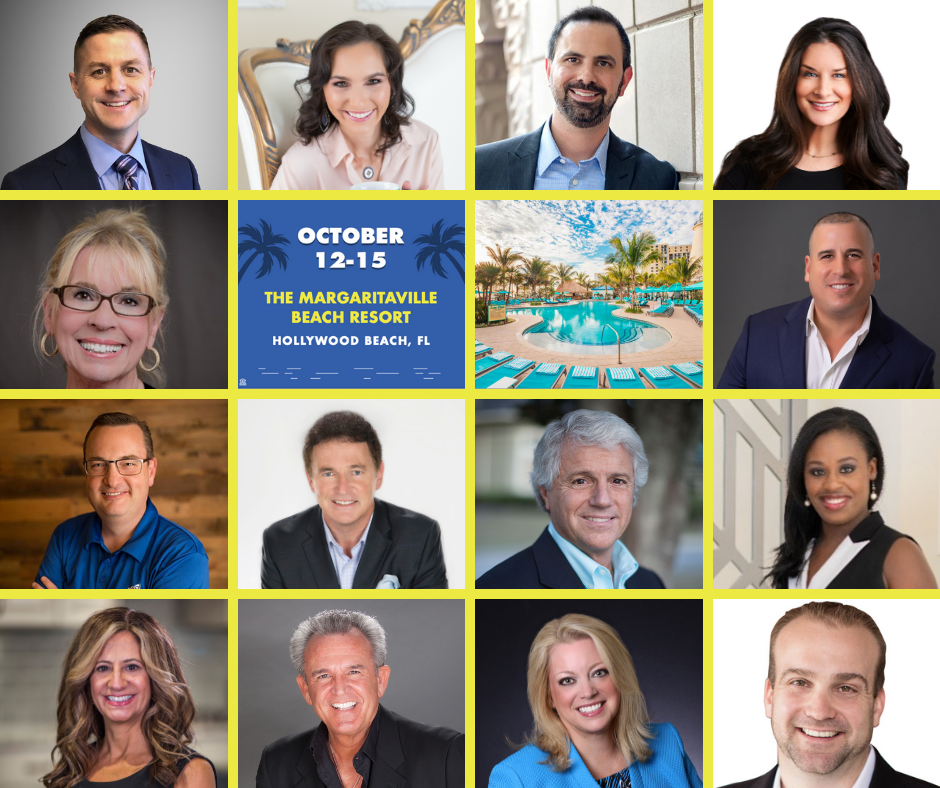 MARGARITAVILLE BEACH RESORT IS THE OFFICIAL HOTEL FOR THE RETREAT!
THIS IS A LIVE EVENT WITH LIMITED SPACE-WE EXPECT TO SELL OUT QUICKLY.
Join New Home Salespeople, Sales Directors and Owners from all over the USA for Premier Sales Training hosted by National New Home Sales Expert Roland Nairnsey, and his team. Joined by internationally recognized Motivator Mike Moore, the number one Design Studio Consultant Jane Meagher, Seth Kaufman Chief Sales Officer at ONE Sotheby's, Industry Podcaster &  Marketing Expert Anya Chrisanthon, Trainer Quint Lears and many more guest  speakers.
PLUS INCLUDED WITH YOUR STAY...
Sunrise Yoga on the beach.
Mindfulness-mediation and stretching during the actual class, in the early afternoon
Chair massages
Cooked breakfasts every day along with healthy choices
Exciting food breaks with healthy snacks, smoothies and Cuban coffees
Delicious warm and healthy lunches every day.
Pool party with live music overlooking the ocean , frozen drinks and warm appetizers or Paella.
Best of all, we will be together for some "fun in the sun" on the beach in vibrant Hollywood Beach Florida. Attendees and sponsors will be pampered with gourmet meals, yoga on the beach, a roof top poolside party and more! Learn from the industry's most respected experts, all under one sunny, relaxing roof.
AVERAGE OCEAN TEMPERATURE IN OCTOBER IS 82.8 DEGREES
Frequently Asked Questions:
We want you to have as much information as possible, so that you can make an educated decision an ensure that you are investing your time and money wisely. Please feel free to download this and share with your manager and friends.
"Our goal is to pamper you, educate you, and send you back home feeling rejuvenated and with a smile on your face." Roland Nairnsey, President New Home Sales Plus
HAVE MORE QUESTIONS? CALL US! (561) 236-2400 OR EMAIL: Abi@NewHomeSalesPlus.com
We value your time and money. We are so confident that you will not only have an amazing experience, but also learn proven processes, concepts, and ideas that will help you improve your sales and enrich the client experience. If at the end of the program you haven't identified at least ten valuable implementable ideas, please let us know and we will refund your registration investment immediately.  
Special Thank You to Our Sponsors!