ROLAND NAIRNSEY - NEW HOME SALES PLUS BLOG
Video Spotlight: A New Homes Sales Star is Born
Every now and again, as a sales coach, you meet a salesperson who is not only eager to learn and improve their sales process, but who has the uncanny ability to implement the training at a very high level, almost immediately.
Watch Logan Taylor's virtuoso virtual video performance.
This year, I had the great pleasure of re-acquainting with Stevens Fine Homes located in beautiful Wilmington, North Carolina. They are led by newly minted Sales Manager Jenna Parker, who is one of the most upbeat and positive people you could have the pleasure of meeting. I began in late February of this year with the "A-Z of New Home Sales" training, which is my blue chip program designed to help understand the structure and sales processes of new home sales, and to allow one to begin selling homes as quickly as possible. The atmosphere was warm and the whole team was genuinely friendly and receptive.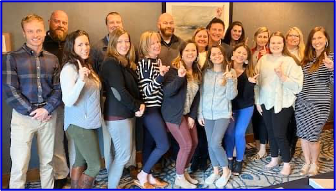 One attendee – Logan Taylor, an easy going 25-year-old Wilmington native – had just been promoted the week before from Sales Associate to Salesperson and was eager to absorb the information being shared. In her notes, she said:

As we all know, Covid struck in mid-March, so after the initial shock and shutdowns, we all adjusted to this new world. With training, we moved everything to Zoom. Since so many clients were too afraid to come to model homes, we created our "Virtual Academy" and role played with each salesperson through a virtual sales process. With Stevens Fine Homes, we had a lot of fun as Jenna pretended to be my chipper wife and I took on the role of her spouse stuck in New York. Every salesperson did very well, each with a few tweaks here and there to help get them on track.
When we started role playing with Logan, it was clear within a few minutes that we were working with a seriously talented sales person, brimming with potential. One of the hardest concepts for newer salespeople to assimilate is the idea that "Telling is not Selling" and we should be continuously asking questions and involving our clients. Instead of "Feature Dumping", we work hard on capping Features with Benefits and then asking an Involvement question, or as I like to call it: FBI. Constantly checking in with clients to find out how they feel about what you have been sharing.
You will see my face about two minutes into Logan's Video, when she asks me which architectural style I prefer. My excitement is palpable and only grows as Logan continues to be interested in our family and create emotion for our new home and lifestyle, give choices and get commitments, close out spaces, transfer ownership with furniture choices, and ultimately close completely and effectively.
Coincidentally, since then, Logan has broken every sales record in Stevens Fine Homes' 25-year history. In August, Jenna, Logan's manager, shared the following:
"Logan has been extremely coachable and has put the principles that Roland teaches into practice, and in the six months we began training with Roland has made 44 sales, well on her way to a company record!"
It is now 8 months later, and Logan has sold Gross 72/Net 59 homes and has earned the company record with four months to go in her year.
We recognize that sales don't occur in a vacuum and that are as a result of collaboration between market research, our owners, architecture, interior design, our builders, financing, administration and closing department, and our sales and marketing directors. However when all of these moving parts are working well, we need to make sure that we as sales people are doing our part to capitalize on a healthy market, and we can measure our results to ensure we are performing at the highest level. At Stevens Fine Homes the average company- wide conversion ratio is approximately a very healthy 20%, or in simple terms 1 sale for every 5 prospects. Logan's conversion ratio is the highest at 36% or slightly better than 1 sale for every 3 prospects she meets with. And to think she has only been the lead salesperson for just eight months, so this conversion will probably even get better over time.
We are all so proud of her and happy for all of the new homeowners she has helped to fulfill their dreams. We are so excited for the bright career that Logan and her colleagues will have, and for the lives they will improve as a result.
Please watch Logan's video* and enjoy.
*This video is a shorter edited version to make it more peppy for us short attention span people.
For training purposes, we really encourage you to go to the New Home Sales Plus YouTube Channel and watch the longer, unfiltered version. While you are there, please subscribe (Ring the Bell!) so that you will be the first to receive original, real world training videos, such as these.