ROLAND NAIRNSEY - NEW HOME SALES PLUS BLOG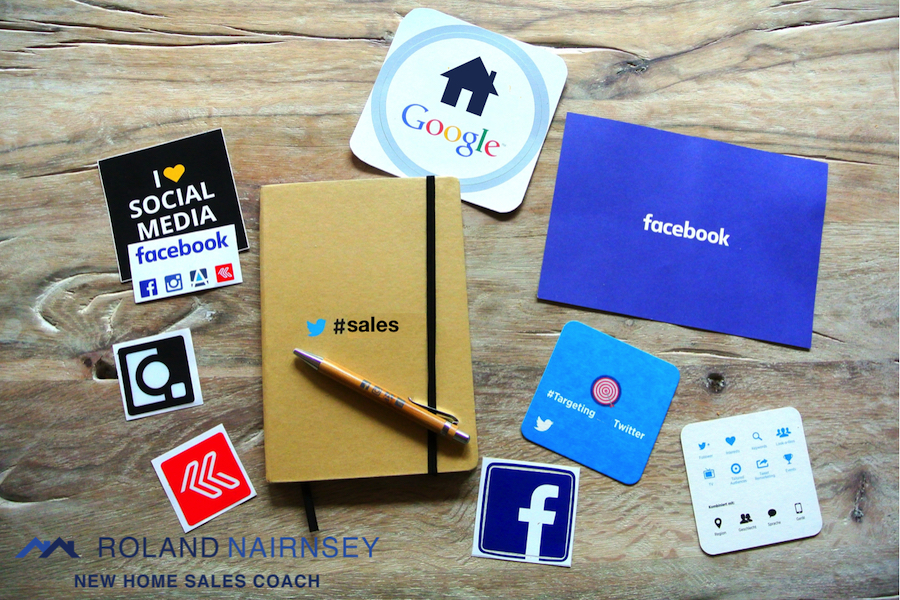 How to Harness the Power of Social Media for Home Builders
"The coordination of knowledge and effort between two or more people who work towards a definite purpose in a spirit of harmony. No two minds ever come together without thereby creating a third, invisible intangible force, which may be likened to a third mind, also known as, The Mastermind."
This is the definition created by Napoleon Hill in his famous book "Think and Grow Rich".  At New Home Sales Coach, we have created an exclusive Management Mastermind Group (MMG) that includes owners, directors, and managers from all across the USA. We brainstorm, learn from each other, and have some fun regularly in the following ways:
Quarterly group video conferences.
On-site meeting at one of our home builders. We visit their models, tour their design center, share best practices, and have training and industry expert guest speakers. This year, we had an amazing time at Eagle Construction in lovely Richmond, VA, and Matt Riley, vice president of Group Two Advertising, was our speaker.
Exclusive MMG Facebook page to ask questions and share ideas in private.
Party or dinner at the International Builder's Show. This year, we hosted our "shindig" at a cool restaurant with a balcony on the strip across from the fountains of Bellagio, and we all enjoyed an open bar, delicious gourmet food, and magical singing. Check out the video from Las Vegas below!
For our July video conference, we compared compensation plans and discussed real world programs that help motivate sales teams to perform at the highest level on a consistent basis. We were about to discuss our second topic which was Social Media, and whether our salespeople should do their own thing, or should the builder be involved, when guess who stopped by?
Look Who Stopped By Our Mastermind Group Video Conference in July
Mollie Elkman, owner and president of Group Two, along with her esteemed team of Chelsey Keenan, Dan Chiev, and Vicky Bak got on the video conference with our MMG to share some very helpful social media strategies and tools. I have known Mollie for more than a decade, and she was one of the first to discuss the benefits of social media and digital marketing specifically for home builders. She showed great prescience, as her ideas are now considered mainstream. Mollie has assembled a team of true experts in every modern facet of social and digital media (most of whom are digital natives unlike many of us "digital dino's") and is easily regarded as one of the true thought leaders in our industry.
We had a lively conversation with all of the owners and managers chiming in. Mollie and Chelsey shared their expert views. The consensus was that salespeople are welcome to aid with social media, but it has to fit within the professional guidelines and image laid forth by the builder.
Celebrating the Sale with the Social Media World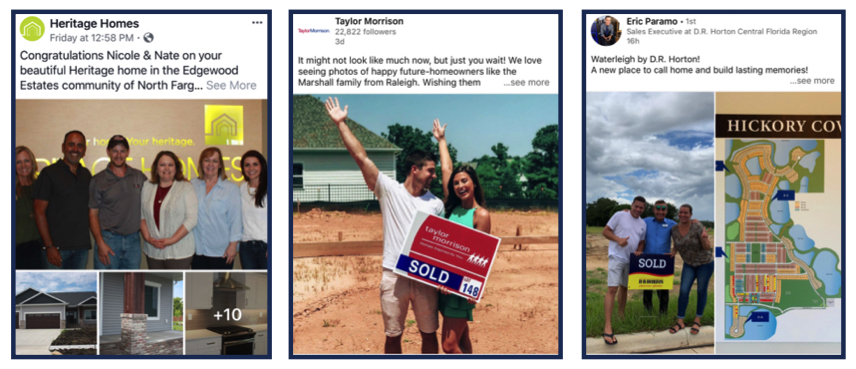 For example, a best practice that many builders utilize and something we used to do with my own sales team a few years ago is to photograph clients just after they have signed their agreement. We would snap up a shot of their beaming faces either putting a red sold sticker on the community map in the sales office or holding up a sold sign in the office. Sometimes we would go out to the available home and take a photograph in front of their brand new home or on their vacant home site.  With their permission, we would then post this photo on social media, tagging the new homeowners at the same time.
What Are The Benefits of Social Media for Home Builders When Celebrating the Sale?
We celebrate with the client at an exciting time in their life and allow them to relax, have fun and celebrate this new chapter in their lives.
We should prevent buyer's remorse from setting in because (with their permission) their new home purchase has been broadcast to their whole social group. Their "new home cat" is officially out of the bag.
The clients' friends and family will see where they are moving to and, presuming they are likeable folks, will want to come over and see where their besties are moving too.
Yogi Berra humorously said about a local restaurant:
"Nobody goes there anymore, it's too crowded."
The truth is people are attracted to success and feel comforted knowing that your neighborhood is popular. The more you control your message and build this proactive image of success around your community and homes, the more homes you will sell. Many of your more timorous personality types will see these photos of new happy homeowners and feel reassured enough to come back to consider you and your homes.
Being a genuine fan of social media, I am friends with a multitude of home builders and salespeople all across the country, so I see these pictures almost on a daily basis. Some are posted by the home builder's marketing team and others by the actual salesperson adhering to the guidelines set up by the company. Either way, it is a winning sales and marketing formula for success.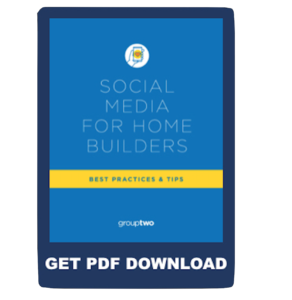 During our MMG Video Conference, Chelsey Keenan, social media director for Group Two, confirmed some best practices, and then kindly offered to share with us these written best Practices and Tips for Social Media for Home Builders. This information is priceless. Please click this link if you would like your free copy of Social Media for Home Builders.
Please feel free to call me or write with any questions. Have another wonderful month of selling.
Truly,
Roland Nairnsey