ROLAND NAIRNSEY - NEW HOME SALES PLUS BLOG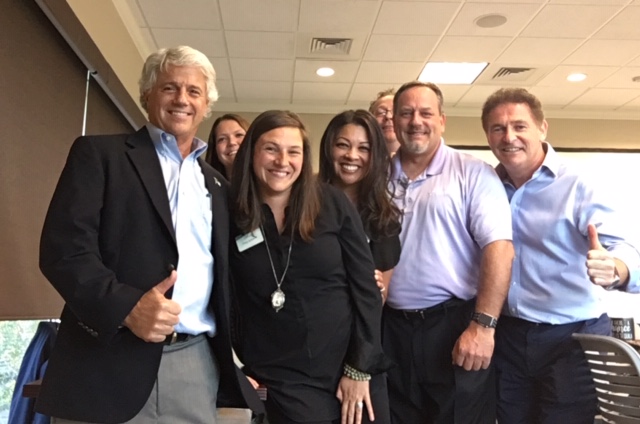 Sales Expert and Licensed NLP Coach Tom Daddario Joins Our Team
We are so excited to announce that new home sales expert, Tom Daddario, has officially joined the New Home Sales Coach team and will be bringing his more than 30 years of real estate experience to help coach our clients to success.
I am so happy and honored that Tom has decided to join our team. I have known him for many years and he has truly had a great influence on my career. In keeping with our company philosophy, we will only bring in trainers who have enjoyed real world success in new home sales and can therefore teach proven systems that they themselves have used successfully. It is this authenticity that helps us build trust and connect with salespeople and managers.
Tom started his own career in 1986, when he sold real estate for seven years with local and national builders before moving into a senior leadership role as VP of Sales and Marketing. He held this position until 2017 when he decided to jump back onto the sales floor.
Interestingly, my first new home sale ever happened with Tom in 1987. I was a Realtor in West Palm Beach and took a client to Tom, to whom he successfully sold a home. He then provided sales training to me and a few colleagues in the mid 90's. To this day, Tom's training sessions were the most transformational training I have ever experienced. He gave me the structure and systems that I was craving at the time, and still use as the foundation of my sales training today.
Tom combines advanced NLP techniques to understand what is happening underneath the surface with our emotions, with proven sales processes to help coach sales people to maximize their success. This unique combination also helps elevate the client experience, as well as creating a meaningful bond with clients.
Throughout his many years of real estate management, Tom has coached many REALTORS® and led them to become sales managers, marketing managers, and division presidents. Some have also started their own real estate agencies.
His knowledge and experiences led him to publish a book, The Path to Success in New Home Sales, in 2003, as well as a second edition in 2012.  His book not only sold across the United States, but also in Canada, Australia, and New Zealand. He is currently working on his next book, which focuses on Leadership.
As mentioned, Tom brings a new addition to our new home sales training repertoire with Neuro-Linguistic Programming(NLP).  NLP is an approach to communication, personal development, and psychotherapy created by Richard Bandler and John Grinder in the 1970s. It uses active listening, word power, mirroring, getting to know your customer, and positivity to communicate, understand, and build relationships with existing clients and potential clients. Many people are familiar with NLP as world-famous coach Tony Robbins has popularized it with his teachings.  The idea behind NLP in sales is to help you understand that the way you and your clients see the world affects how we operate in the world and bridging the gap between us helps build relationships and understanding to attain the common goal of home ownership.
Tom's vast knowledge and experience allows him to follow a simple sales training concept, which is that he will only teach skills with which he has had proven success. A coach at heart, Tom leads off his sales seminars sharing his top two life goals:
To be the best he can be.
To help others become the best they can be.
Those that embrace his concepts have always become top producers, whether they are a part of a small team or a large, corporate team. Tom Daddario is a natural addition to the New Home Sales Coach team, blending his experience with our goal of providing real world sales training, coaching, and consulting, proven to work.  His new home sales training knowledge and processes adhere to our objectives for providing original, fun, and replicable processes that will lead our clients to new home sales success.
Please join us in welcoming my old friend and incredibly talented coach and trainer to our team. He will look forward to helping you accomplish your goals too.
Please contact us for more information about Tom and our new NLP training programs.