ROLAND NAIRNSEY - NEW HOME SALES PLUS BLOG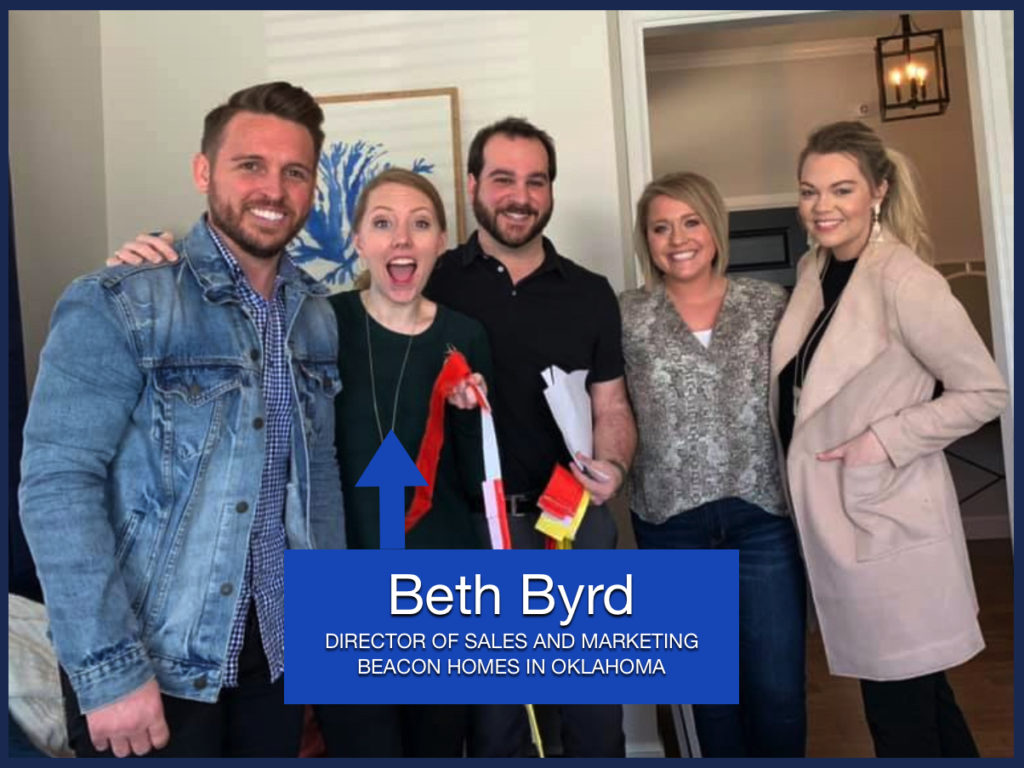 New Home Sales Specialist Spotlight: Beth Byrd from Beacon Homes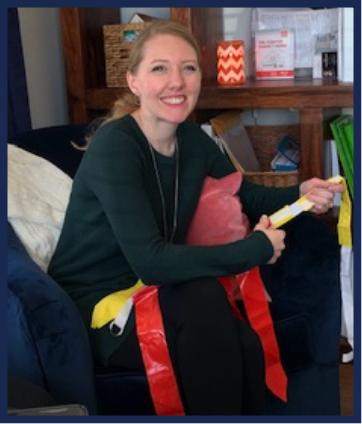 I am so fortunate to be able to meet so many wonderful people during my travels across the USA.  Another person who really stands out for me is Beth Byrd, Director of Sales and Marketing for Beacon Homes in both Edmond and Tulsa, Oklahoma.
When I first met Beth, she was wearing two hats as both online sales counselor and selling sales manager for the Tulsa division of Beacon Homes. Whenever I meet a new builder, I always go online to learn as much as I can about this potential new client. When I did this last year for Beacon Homes, Beth was greeting me within seconds as the smiling face of Beacon's "live chat". Beth was relentless until I 'fessed up that I was really just doing some due diligence.
Now that I know her, I realize this is so typical of Beth and her incredible combination of graciousness and tenacity.  There is no job too large or too small for her as she always wants to just pitch in and help.  She is naturally humble, always thinking about the greater good of her builder. Beth is also highly energetic and positive, always looking for fun and creative ways to help the sales team grow and develop their skills.
Oh, and did I mention that she has five kids yet somehow she manages to create this life-work balance? Let's learn how she does it.
What We Learned About Beth Byrd's Job and Achievements
Tell us a little about yourself. What did you do before new home sales? 
"I studied at the Design Institute of San Diego. My first job in a related business was in the flooring business. I sold, estimated, scheduled, and managed flooring sales for seven years. I also worked in two different large furniture stores as a visual display coordinator. In the midst of all that I spent a few years at home enjoying being a stay-at-home mom to my boys."
What would you consider your greatest professional successes? 
"I'm still amazed that I am in the position I am in after less than six years in this business. I was fortunate to come to a growing company that saw my potential and gave me opportunities to do new things. I'm still learning and have a long way to go, but I am proud to be leading an amazing sales team at Beacon!"
When did you meet Roland and what have you learned that you have been able to apply in your new home sales process?
"I met Roland last November when he came for our first team training. Our whole sales process has changed so much! He has helped us get the information we need more quickly in the discovery process, taught us how to demonstrate our product more effectively, and given us tools to recap and close clients resulting in more sales! We've really enjoyed learning the DISC profiles and how they apply to so many parts of our business from understanding ourselves better, to understanding our coworkers, and most importantly to aligning with our customers based on their personality."
What do you believe are your biggest challenges in your market? 
"We are in an unusual market. We have only one national builder and hundreds of small builders. This creates a "product creep" where everyone is constantly adding more to their homes to try to keep up with each other. It's also harder to educate the team on the competition and prepare a message to sell against them when there are so many different companies to consider."
What are your top three strengths that make you well-suited for your career? 
"Tenacity, Positive Attitude, and Flexibility."
Tell us about a time you got a sale using one of Roland's techniques.
"Last week, we received a low offer from a REALTOR® on one of our homes. Following Roland's advice, we laid out every item that they were asking for. We wrote out the details of the item and what the value was. Then we showed the full value of what they were asking for. We were able to come to agreeable terms at a much higher rate than we would have if we hadn't gone through this exercise. I don't think they understood the full value of what they were asking for, and this helped them appreciate just how much it was worth!"
What advice do you have for someone just getting into new home sales? 
"Follow Roland's advice! Keep practicing the techniques. Ask family and friends to come to your model home and allow you to role play with them. When potential customers come in, take a deep breath and think of it as a conversation with a friend. You are here to help them improve their life. If helping people is your true motivation at your core, you will be successful when you follow Roland's process."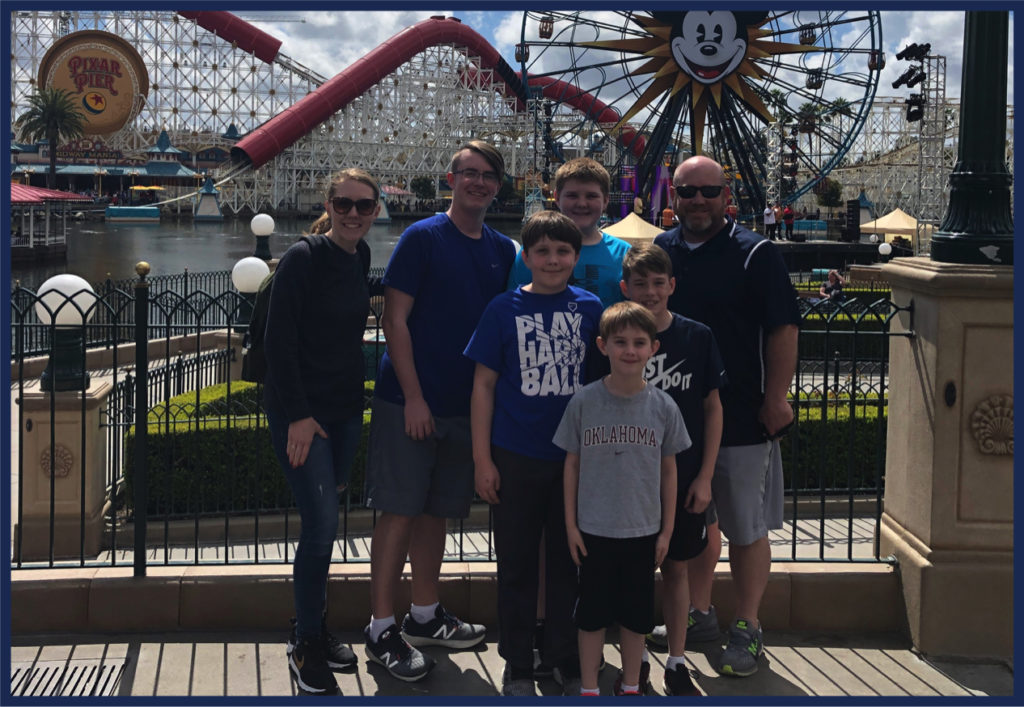 Let's Get Personal With Our New Homes Sales Specialist
What about work/life balance.  What would you consider your greatest personal successes? 
"I spent nearly fifteen years in a very difficult marriage. By the grace of God, and with the help of family and friends, I was able to find the strength to take care of myself and my boys and get out of that terrible situation. I've now been blessed with an amazing husband and a very happy marriage."
What do you do in your spare time? 
"Spend time with my husband and our five (yes 5!) boys. Our house is not quiet and we spend lots of time at Costco! My husband and I love to try new restaurants, travel, and see Broadway shows. I love to shop for bargains. Estate sales, yard sales, thrift stores, and HomeGoods are where you're most likely to find me if I have a couple of hours to myself. I also love live music of all genres!"
How do you balance your career and personal life? 
"It's not always easy. I like to think of it as a see-saw. When business isn't quite as crazy I try to take extra time to balance those times that it's really intense. I try to structure my schedule to work when my family is at school/work and be home when they are whenever possible. Since my schedule varies so much, I've found it helpful to communicate with my coworkers when I'm trying to spend time with my family. They are very respectful of that time and save questions that aren't urgent for when I'm back at work."
What is your favorite quote? 
"'Strength for today and bright hope for tomorrow, blessings all mine with ten thousand beside.'  – Thomas Chisolm."
Do you have any hidden talents? 
"I play the piano."
How do you define success? 
"'Progress not perfection' is another favorite quote. For me, success doesn't always have a specific goal at the end. It's growing and learning and trying new things all the time. It's getting better every day."
Wise words from a bright, strong woman!  Keep up the great work, Beth.