ROLAND NAIRNSEY - NEW HOME SALES PLUS BLOG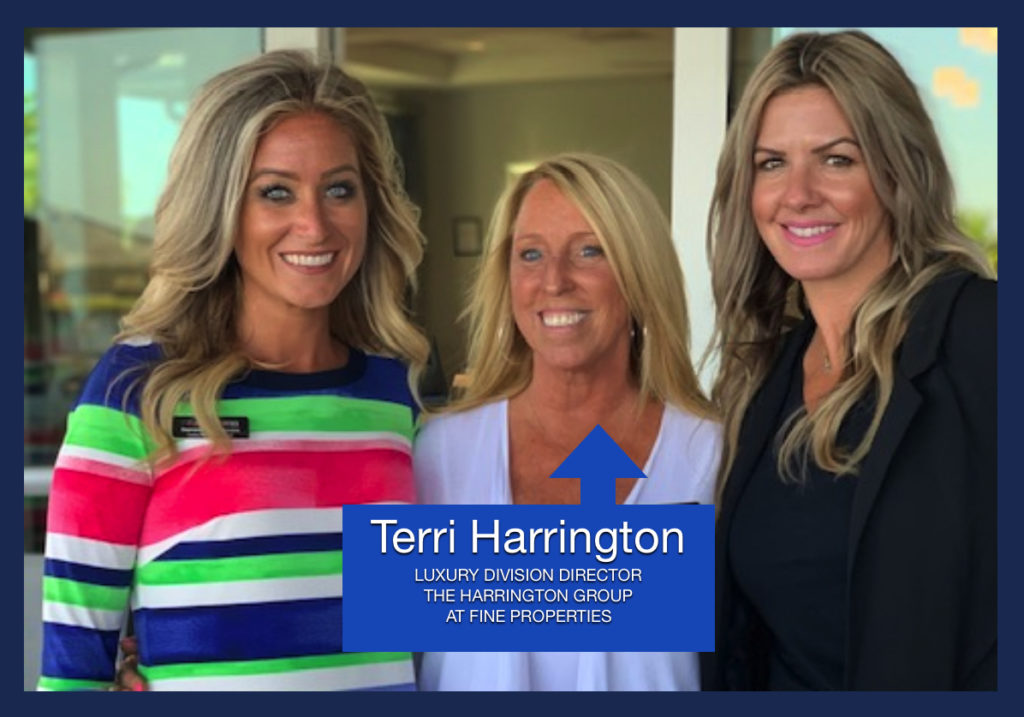 New Home Sales Specialist Spotlight: Terri Harrington of Fine Properties
Paying it Forward with Terri Harrington!
As a coach, my greatest pleasure is when I see someone with which I have worked blossom and then inspire and lead their own team. Terri Harrington is just such a person. I first met Terri Harrington many years ago when I was doing a multi-day training program in Sarasota. Terri was an assistant, but it was obvious to me that she had natural communication and connection skills and that she was destined for greater things.
During the program, Terri had tons of questions, took lots of notes, and was always enthusiastic and passionate. A few years later, I became Director of Sales for a luxury Home Builder in South West Florida. Terri applied for a sales position and she was easily my first choice to join our team.
Terri was a great student of the sales process and was able to combine her natural energy, passion, and humor with proven best practices. I remember fondly the countless Realtor® breakfasts she hosted in order to connect with the local agents and drive in extra sales.
We have both since moved on and I am so happy to see how Terri is now leading her own sales team of agents specializing in Luxury Real Estate. Judging by her many social media posts, she constantly recruits new Realtors® with potential and an eagerness to learn; and then trains them how to follow in her footsteps with her proven path to success. As a coach, and her former manager, I am so proud of Terri's success and the fact that she is positively impacting and enriching the lives of so many others. It gives me great pleasure to introduce the leader of The Harrington Group, Luxury Division, Miss Terri Harrington…
What We Learned About Terri Harrington's Job and Achievements
Tell us a little about yourself. What did you do before new home sales? 
"I am originally from NY and moved to Florida to get away from the cold winters. Prior to new home sales, I was in the hospitality business. I worked for USAir for 12 years, took a furlough with the company and shifted my career as a group Cruise Director for seven years with American Express Travel. I had the BEST of both worlds! I also opened an ALLSTAR cheer and dance facility after moving to Florida and, for 17 years, devoted my time and passion for the youth to teach leadership and value within, and to let these children know they could do anything they set their minds too! I'm privileged to have many regional, state, and national titles! Kids are my passion."
What would you consider your greatest professional successes? 
"One of my greatest successes is that I have been rewarded with the most amazing referrals and repeat business from loyal customers and fellow agents who've benefited from my expertise. My vast knowledge of Sarasota, combined with my patient approach to getting customers what they want, makes me an invaluable partner in the real estate process."
When did you meet Roland and what have you learned that you have been able to apply in your new home sales process?
"I met Roland five years ago at a community he was training at for an on-site sales team in Sarasota. I was an administrative assistant at the time and was lucky enough to sit in on the 4-day training class. After that training class, I reached out to Roland as I was preparing for a career move. I decided to take my RE course and go full-time in real estate. After a few weeks, Roland reached back out to me and I was invited for an interview for an on-site sales position with a high-end custom home builder, and Roland would be the new sales manager.  I was accepted for the position and hence began my luxury career! I have applied everything I was taught! Most importantly, confidence in knowing how to capture the emotions of your customer. Listening and asking for the sale. Closing!"
What do you believe are your biggest challenges in your market? 
"Consumers are picking up on the lack of certainty about the economic outlook. It's not necessarily going to inspire buyers to make a large purchase like a home. Builders especially face a number of obstacles due to higher land prices, labor barriers, material costs, and the length of time to obtain permits. If you're selling a more expensive home, your seller probably needs to adjust their expectations. I also believe a new hone construction vs used homes is a challenge I face. You have to be able to manage objections and help your customer make good decisions based off of their investment to purchase."
What are your top three strengths that make you well-suited for your career?
"Investing in education and training and providing the best possible service.
Being dedicated to my business and clientele/my professional reputation.
Attention to detail, working smart, doing whatever is necessary to close the deal!"
Tell us about a time you got a sale using one of Roland's techniques.
"I use his techniques all the time! Each close I do, I just am reminded to "ASK" for the sale. Nine times out of 10. I close! 'Is this the type of home you'd like to own?' Let's go!"
What advice do you have for someone just getting into new home sales?
"Be a true partner with your customer. Connect buyers to the home emotionally. Be instrumental in listening to your customers' needs rather than offering your own opinion. Most importantly, ASK questions and ASK for the sale! Most on-site sales agents/real estate agents fail in the closing area of their presentation because they don't ask for the sale! You job is to create a successful outcome. Selling new homes is knowing what you're selling and articulating what the value is."
Let's Get Personal With Our New Homes Sales Specialist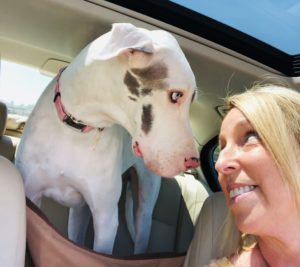 What about work/life balance.  What would you consider your greatest personal successes?
"One of my greatest successes was being recommended for a luxury listing from my current broker, Shaun Peens, and being selected to represent the $9.5MM project here in Sarasota. I also believe hiring the right team of professionals under "The Harrington Group" at Fine Properties that support my brand, vision, and customer in the state of Florida is a great success."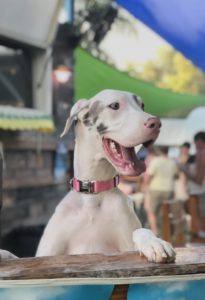 What do you do in your spare time?
"In my spare time, I spend it with my new Great Dane, Kylee Blu. Kylee is a rescue and adventure is the name of the game! I'm a huge animal lover. I also enjoy spending my time at the beautiful beaches here in Sarasota."
How do you balance your career and personal life?
"With grace. (LOL)
Real estate isn't easy. I am lucky to say that every time I find a home for my buyer or sell a home for my customer is a proud moment for me. My job is to make sure my customers have a perfect transaction. I take time out for family and vacations, it's a must! Being disciplined in dedicating hours that you just have to say – 'It's time to shut down the phone!'
I like to take long walks to the BANK with my closing checks! LOL!"
What is your favorite quote?
"You lack nothing. Use what I gave you. -GOD"
How do you define success?
"'My definition of success is knowing that what you are doing is helping you and others lead a better, happier, healthier life. To me, success means a life full of joy, it means creating a business that empowers customers, colleagues, and community in equal measure."