ROLAND NAIRNSEY - NEW HOME SALES PLUS BLOG
New Home Sales Specialist Spotlight: Julleanna Seely
During my new home sales training travels throughout the United States and Canada, I have had the pleasure of meeting many sales specialists that have impressed me with their hard work and dedication to finding the right home for every prospective homeowner that walks through their sales center doors.  They are the ones that embrace learning and know that, however much knowledge and experience they have, there is always room to learn and grow more and more each day.
With that in mind, we decided that it was our responsibility to spotlight these individuals, providing them with a little recognition for never giving up and always wanting to excel in the new home sales industry.  Our first spotlight is New Home Sales Specialist Julleanna Seely from Bay to Beach Builders in Greenwood, Delaware – "the best of small town America".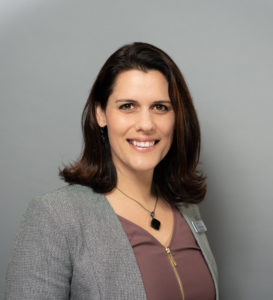 Julleanna has been selling new homes for 12 years: Six years with a custom home builder and six years for one of the largest national home builders.  Her journey has given her the opportunity to sell in four different states and to every spectrum of clientele.  She has sold homes as low as $99,000 in a southern Indiana community to a near $990,000 multi-level custom beach home on the Delaware shore.  We wanted to learn more about her professional journey, so we asked her a few questions about how she has been able to succeed in new home sales.
Roland: "What are your top three strengths that make you well-suited for your career?"
Julleanna: "Positive, energetic personality, competitiveness, and resiliency."
Roland: "What do you believe are your biggest challenges in our market?"
Julleanna: "The biggest challenges that I'm seeing in our market is that new home prices are increasingly much higher than the resale market.  As the economy has improved, material costs and labor rates continue to rise at rates that can make the investment of new construction unreachable for many locals, where the median income is relatively low.  However, inventory is also fairly low and we do see many out-of-state buyers with higher incomes retiring to Delaware."
Roland: "What would you consider your greatest professional successes?"
Julleanna: "My first year in new home sales, 2007, the economy and housing market were declining, I earned the Region's Rookie of the Year award.  Four years later, in the heart of the recession, I won both the Outstanding Sales Rep and Best Customer Service awards.  Once I transitioned to working for a custom home builder, my skill sets diversified into planning for a state-of-the-art Design Studio, managing social media and producing TV commercials while achieving sales goals."
Roland: "What advice do you have for someone just getting into new home sales?"
Julleanna: "It's an incredible career, but can feel like a rollercoaster, especially at first.  Keep smiling, believe in yourself, and listen to your clients.  Be caring and supportive and you'll win them over.  It can feel slow getting started and seeing the financial benefits will take several months, but stick with it and you'll reap great rewards."
New Home Sales Training Tips That Worked for Julleanna
Julleanna knows a thing or two about reaping the rewards of working hard and successfully selling.  After attending the two-day training session with Roland, she returned to her sales office and was able to secure four new home deposits in four days.  She says her skills were sharpened and fresh.  One prospect came in and immediately began to share personal and difficult stories about her life.
"I remembered Roland's sales ABC's, "Always Be Caring", and mirroring their mood and personality.  Trust and rapport was gained as I listened at that first visit.  Two days later, the couple came back and decided to build a new home for over $500k, even though they were looking at used homes for $375k."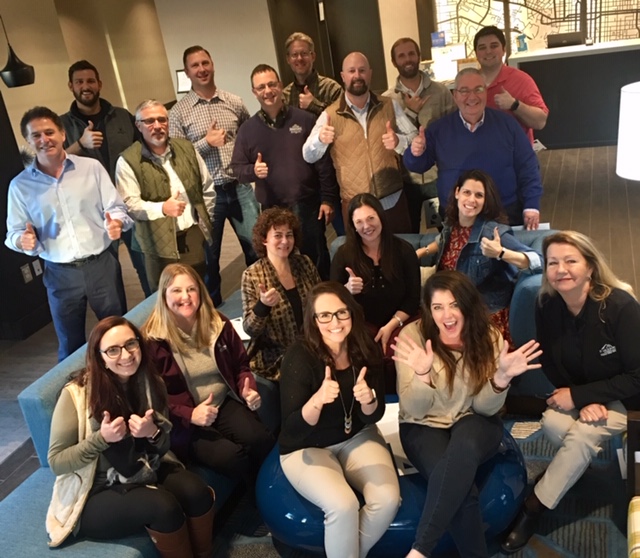 Roland first met Julleanna in January 2019, when the company for which she works partnered with a few other builders for two days of intense sales training.  She says it was a great experience for them all.
"Even with years of experience, I found many of the ideas and plans very effective to sharpen my sales presentation and be more client-focused.  I appreciated the information on four major personality types and adjusting our sales approach for them.  The tips for listening, information gathering, and "chunking" as a method of showing that you understand are great!"
Work/Life Balance
The strength and resilience Julleanna portrays in her professional goals also flow through to her personal life. At age 25, she decided she wanted to run a full marathon – 26.2 miles.  She completed her first marathon in San Francisco, CA on October 21, 2007.  Ten years and three children later, on October 21, 2017, she ran her second marathon in Dover, DE.  In October 2018, she ran her third marathon in Maui, HI, a month before her 15th wedding anniversary.
"Running three marathons was tough and rewarding, but carrying and mothering three children while maintaining a successful sales career may be my greatest success!"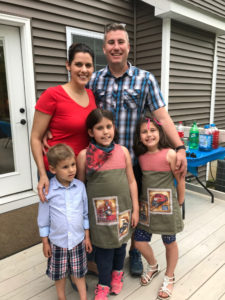 Work/life balance is a hot topic and with a successful career and a family, Julleanna seems to be able to balance it all fairly well.  When I asked her how she achieves that balance, she replied: 
"Hmmm, is true balance possible?  We try our best!  My daughters are 10 and 7 with a 4-year-old little brother.  Life is very full and active.  Fortunately, I have a great  support system with my husband, who is a full-time stay-at-home dad, and parents who live nearby.  My husband, Adrian, handles much of the housework, so I can spend time with the children in the evenings and manage their school papers and activities more.  Our oldest daughter was born with Spina Bifida and has unique daily needs, but she is a fighter and doing great in school."
Julleanna also gets up early to run about three mornings a week for some "me" time.  Otherwise, much of her time away from work is spent with her children, going to karate or gymnastics practice, or enjoying outings at local parks and the beach.  Her husband and her try to get out a weekend night or two every month to get dinner or catch a local band, plus they enjoy traveling.  She also tells us that she loves doing cartwheels and can even do a decent split: "This can be especially entertaining on a Saturday night out with great music and dancing!"
With a successful new home sales career, a loving family, and a full schedule of hobbies and activities, it is no wonder Julleanna's favorite quote is "Never, never, never give up" (Winston Churchill).  She truly lives up to her own definition of success, which she says is "being able to sleep at night, feeling right about the direction of your life.  It's not about money.  It's not about fame.  It's about being a contributor to your family and community, and feeling good about your work.  It's believing you made the world a little bit better that day by being alive…truly alive!"
It is my pleasure to present to you, Julleanna Seely, our very first featured sales specialist, and the person who has reminded us of all we can achieve by being "truly alive".