ROLAND NAIRNSEY - NEW HOME SALES PLUS BLOG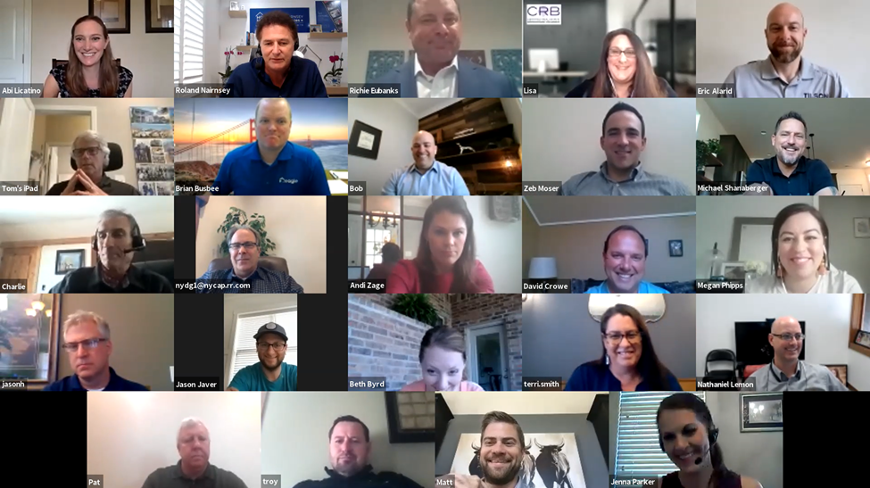 What We Learned Last Week: 3 Top Tips From Our Mastermind Group
We had our quarterly Mastermind Group Zoom meeting with managers and owners from all across the country last week, along with a few special guests.  With twenty building companies of all sizes being represented, we had a lively open discussion as to what we are doing that is working, as well as what doesn't work. As we know, this current situation seems to change almost weekly, so being open minded and flexible are essential to help navigate through these trying times.
We were honored to have guest speaker Kevin Oakley, principal of Do You Convert, and Charlie Scott, well-known industry leader and consultant, as well as writer for Pro Builder. I quickly reviewed some of the latest economic data that supports that, after experiencing a massive drop in GDP, experts like Goldman Sachs and JP Morgan are predicting a massive uptick in the economy when we all go back to work. Depending upon when and how we go back to work, the debate is whether it will be a V or a U curve. Here is a graph I made from the GDP predictions at the time.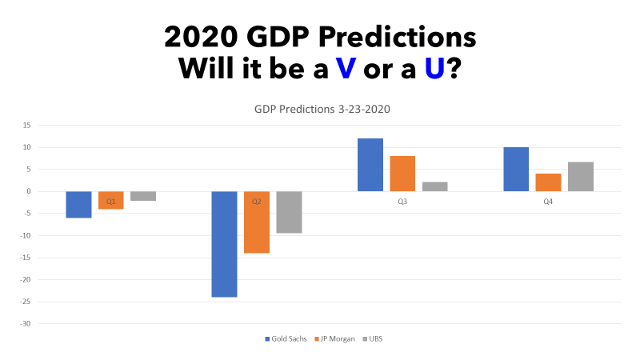 The experts also predict that, based upon a pent-up demand for new homes, a low supply in most regions, and possibly an increase in building materials due to supply chain issues, new homes will be very popular and increase in value rapidly when we open for business again. Our panel of experts addressed how to use our time well now and how to prepare.
1. "Advertising Has No Momentum, Content is Forever" – Kevin Oakley
Kevin reviewed data relating to web traffic and leads and then explained that now is not the time to throw money into extra panic advertising. He explained that some builders did this, coupled with deep discounts during the Great Recession, and just wasted their resources. Kevin advised that now is the time to review and improve all of your content.  Improve your photos and plan presentations, so that the public can either access them online or review them virtually with salespeople. I learned that advertising has no shelf life, whereas content will last forever, or at least until you update it.   
2. Working Remotely and Focusing on Our Salespeople's Wellbeing
We are all adjusting to our sales teams working remotely. Some of you across the nation have models still open, but are keeping your doors locked and working on an appointment basis only. In the rest of the states, the salespeople are working from home, and then deciding how to show their homes virtually to clients.
All of us are concerned about our team's wellbeing first and making sure that they are staying healthy and positive. After that, we then want to ensure that they are staying focused and still have the right mindset to make sales. Charlie Scott reviewed elements of the wonderful article he wrote for Pro-Builder magazine.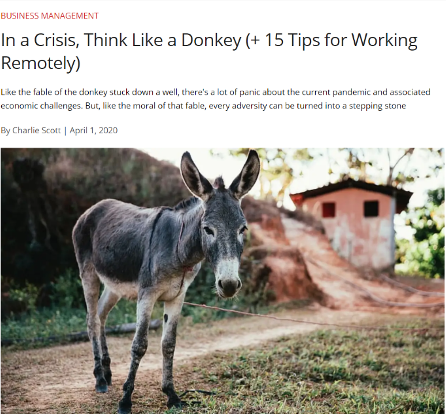 Here is the link: https://www.probuilder.com/crisis-mode-start-thinking-like-donkey
Some of my biggest takeaways were to get dressed for work every day and maintain a routine. I have worked from home for years now (when I am not on the road), and am proud to say that I do this. I dress well and am at my desk by 9 am and usually end my day at 6 pm to spend quality time with my lovely family. I have found that if I fray the edges too much and don't enforce self-imposed boundaries, it causes unnecessary anxiety on both my business and family life.
We discussed the importance of checking in with our sales teams and what was the appropriate cadence and style. Jenna Parker, sales manager at Stevens Fine Homes, situated in scenic Wilmington NC, checks in by phone daily and has a Zoom meeting three times a week. Some of the Zooms end up being more playful than business, but the team still feels connected with each other, as well as valued. Terri Smith, sales manager, in equally beautiful Holland, Michigan said:
" I check in by phone with each member of the team daily, and we send each other "brain storm" and "overcoming objection" emails almost daily. We are also doing a full company Zoom once a week and a Sales Zoom Huddle twice each week. Its important to see everyone's smiling face and keep things as normal as possible."
Troy Mattern, sales manager  of Heritage Homes in Fargo, North Dakota, is a State Championship-winning football coach and came up with a very clever tool for keeping his team motivated and focused. He created a colorful form that has a series of activities to choose from, each one with varying amounts of points allotted. There are fourteen activities, such as attending industry webinars, follow-up in the CRM, Virtual Zoom meeting with a client, making a virtual sale, and more. Understanding there are different "horses for courses", he allows the salespeople to choose the items with which they feel comfortable. At the end of the week, during a fun Zoom call, he awards prizes. Troy reports that not only is it working to boost morale, but also sales, and wonderful remote daily habits are being formed.
Troy has kindly allowed us to share the form, so if you would like a copy please email me at: Roland@NewHomeSalePlus.com; and type in: Troy Mattern- Heritage Activities Form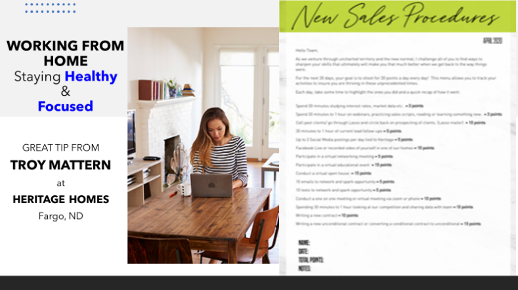 3. New Home Sales is Regional – Resources and Training to Prepare for the Upturn
Lastly, we discussed how the impact of  this current situation is having on all of us as a region. Here is the map from the NAHB website showing which states are open, partially open, and then completely shut down. 
Eric Alarid, senior vice president at Tilson Custom Homes in Texas had enjoyed a whopping 70 sales since the beginning of March. Many of the southern builders in our group, such as Alvarez Construction in Baton Rouge, Louisiana, Hughston Homes in Columbus, Georgia, Hunter Quinn in the Charleston, South Carolina area, and Red Door Homes NC, enjoyed more than 20 sales each in March, in spite of the difficult external factors. Whereas our builders in places like Oklahoma with oil and gas jobs being a concern or parts of Michigan, New York, and Washington State where construction is considered non-essential; are understandably having a tougher time.
With that in mind, we discussed that now was the perfect time for our sales teams to immerse themselves in education and training. I cited many of the resources of various industry experts who are hosting weekly webinars that we have all been attending and created a link so that the attendees could access the information easily. Also, now is the perfect time for training. I have been working with all of our builders with Zoom calls and we have all been working on perfecting our virtual demonstration techniques. Here the power point that touches on this subject.
My colleague at New Home Sales Plus, Tom Daddario, who is licensed in Neuro Linguistic Programming (NLP), discussed the amplified importance of mirroring and matching body language during virtual calls. Also, how pacing and matching voice, tone, and verbiage was one of the most elevated ways to connect with others.
We welcomed many new builders to our Mastermind Group and also thanked Abi Licatino for her invaluable contribution to managing these meetings and helping everything run so seamlessly. After sharing and brainstorming for almost three hours, we not only learned so much from each other, but also appreciated the camaraderie and the realization that no matter the size of our company or the location, we are still all truly in this together.