ROLAND NAIRNSEY - NEW HOME SALES PLUS BLOG
Watch Roland Nairnsey Talk About the Body Language of Selling at the Tampa Bay Builders' Association
Are you looking for a quick laugh? Then please enjoy this fun little video from February 2020, where we discuss the importance of body language in selling and connecting. It is amazing how things have changed since this video, so I want to make sure that we all know this was filmed before the extra challenge of communicating safely with masks.
As much as we are having fun, Body Language, Voice, and Tone are such an important part of how we are perceived by others. They shouldn't be considered trivial in terms of connecting, communicating, improving the experience for clients, and bottom line selling more homes.
There were two famous studies relating to body language and communication: Dr. Mehrabian in the 1950's and the University of Pennsylvania in the 1980's. While they disagree on the exact mix of body language and voice percentages, both agree that words are only 7% of what people perceive from us when we communicate. While this seems controversial, it tells us that just because you are saying something, that doesn't mean our clients are actually receiving it.
Research also shows that our eyes alone send 10,000,000 pieces of information to the brain every second. Add touch, sound, smell, and taste, and our non-conscious mental system processes 11,000,000 pieces of information per second. Pretty incredible when you think about it, isn't it? So what this tells us is that when we communicate, our body language, voice, and tone have to match our words, to ensure that our message is being positively received.
Please enjoy this eccentric little video. Special thanks to my friends at the Tampa Bay Builders Association for inviting me last year, and to Jimmy and Trish Schaefer of Real Reach for filming and editing this so well.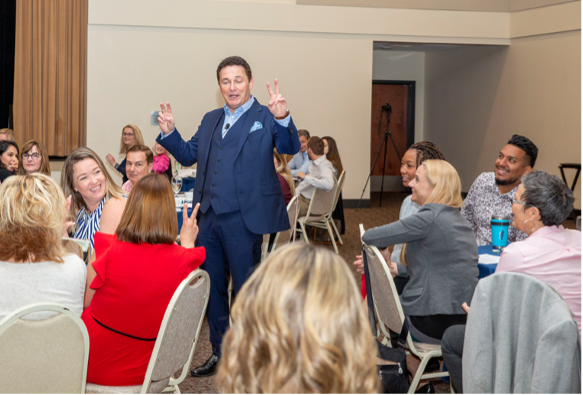 Also, if you would like to do a deeper dive into the importance of body language as well as adapting, then please enjoy this short training video we made last year, that is one of many helpful wee videos on our You Tube channel.
For more videos like this, please go to our YouTube channel, and click the bell to be the first in the know.
Have fun focusing on your clients with all of your senses, elevating the client experience and heightening connection from now on. Please, let me know how it works.