ROLAND NAIRNSEY - NEW HOME SALES PLUS BLOG
Looking Forward to Seeing You in Las Vegas for the 2019 International Builders' Show!
We are making our final preparations for the 2019 International Builders' Show and look forward to seeing you there to network, learn, and grow!
For my part, I will be joining a stellar group of professionals at Sales Central 2019 (sponsored by our friends at Group Two and Lasso), where I will be celebrating the difference we are making in people's lives with different ways you can connect with clients in a way that will enrich their lives for many years to come.
Join me on Tuesday, February 19, 2019 at 12:30pm in room LVCC South 219 right after the Sales Central Lunch and stick around to learn more about the programs and services we can offer for your company.  Whether your team is just starting out in home sales or you are looking for ways to reinvigorate them and jumpstart sales, we can help with just the right program to accelerate your success.  Contact us to discover the best program for your team.
New Home Sales Coach is also hosting a private social and networking event in a beautiful outdoor bar in Las Vegas! Send us an email to receive your personal invitation and enjoy an al fresco evening of drinks, appetizers, live entertainment, and networking from 6:30pm-8:30pm PST.  Hope to see you there!
Blog Spotlight: How Do You R.A.T.E. in the P's of New Home Sales Marketing?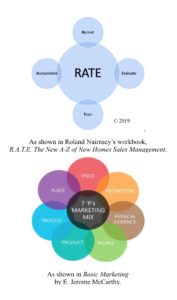 Business owners and sales managers have a responsibility to be engaged in the sales and marketing process, managing it on a daily basis to ensure their success.  During my time as the Director of Sales for a prominent luxury custom home builder in Southwest Florida, I created the R.A.T.E. system, which along with the use of the P's Marketing Mix, helped keep us on the right track to increase new home sales.  I now coach managers and owners all across the country using the same system with great success. Read about the essentials in this blog.
Learn how to R.A.T.E. Your 6 P's of New Home Sales Marketing.
What New Home Sales Coach Clients Say About Roland Nairnsey
It has been such an honor training and coaching many thousands of new home salespeople and Realtors® throughout the United States and Canada.  I have been truly blessed to help so many amazing people improve their lives and the lives of those around them, by creating long-lasting consistent success in our wonderful industry.
It's important to me that clients get as much knowledge as they can in my training sessions and that they are eager to apply that knowledge in their sales process.  If you're on the fence about whether or not you should contact New Home Sales Coach to start your sales training, take a look at what some of our clients have to say about their coaching experience.